These intensive, four month cohorts will focus on two hot topics;
Social-Emotional Learning &
Positioning Your After School Program. 
Each cohort will meet four times throughout the course of the current academic year. Participants will also receive additional materials and resources throughout the year. The emphasis of the CLASP program is to provide resources and support through coaching and learning that help to change practice. Past CLASP attendees are welcome.
---
Due to the intensive nature of the CLASP experience, it is essential that participants plan to attend the full four sessions. We will be offering 15 slots in two locations for 2017-18 sessions designed for those overseeing after school or summer sites or programs.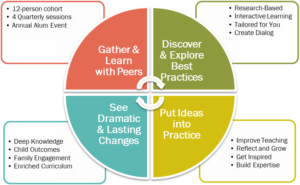 ---
STATE AFTER SCHOOL GRANTEES:  Each grantee is strongly encouraged to send someone to participate in one of the two CLASP cohorts. State funded after school grantees each receive one free registration per grantee. Grantees must register by January 29th at 5 PM, but popular topics will fill up quickly so register early for your first choice.
Additional registrations at a cost of $475 per person will be available if space permits.
---
Cohort 1: Social-Emotional Learning
Dates: Feb 8, Mar 8, Apr 3, May 3
Time:  9:00 am – 2:00 pm
Location:  McGivney Community Center, Bridgeport

Delve deep into the realm of Social Emotional Learning (SEL), exploring research and best practices, developing skills to assess, plan, and implement, building the skills to coach relevant improvements in their programs and staff, and learning to advocate with parents, schools, policymakers, and other stakeholders about the importance of intentional SEL in afterschool and beyond.
---
Cohort 2: Positioning Your Afterschool Program
Dates: Feb 15, Mar 15, Apr 2, May 2
Time:  9:00 am – 1:00 pm
Location:  CT Nonprofits Center, Hartford
Developed for seasoned community and education leaders and will include topics and trends in education policy and law such as chronic absenteeism, school-community partnerships, the Every Student Succeeds Act (ESSA), and Next Generation Science Standards (NGSS). Participants will actively learn methods that strategically align programming to larger educational efforts in their communities that have been shown to lead to greater student outcomes.
---
Pre-registration is required.
Registration Deadline: February 14, 2018
Check the Connecticut After School Network website for inclement weather cancellations.