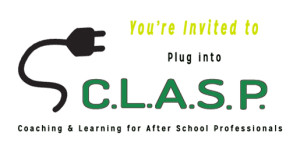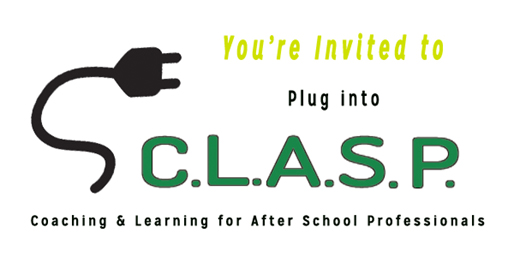 Eager to dive deeper in the role of Social-Emotional Learning in After School? We have just the opportunity for you! Join our Coaching & Learning for After School Professionals group, for 4 sessions, over 4 months to discuss turning theory into practice and measuring the great things you do. All SEL-related! This small group, intensive leadership cohort will help you identify SEL improvement needs for yourself, your staff, your students and your program.
---
Each session will include fun, hands-on activities to take back to your program and clear, concrete goals for program improvement. By the end of the year, you will have a robust, meaningful social-emotional program in place.
Due to the intensive and compounding nature of the CLASP experience, it is essential that participants plan to attend all four sessions. Upon successful completion of all four sessions, participants will become members of our CLASP alumni group. You will be invited to attend an annual reunion, may be invited back to speak, train or advocate on behalf of after school and summer programming, and will have a strong peer network to connect with as they implement their new expertise in their programs.
---
Pre-registration is required.
CT NonProfit Center
75 Charter Oak Avenue, Hartford
Directions to the Hartford
---
PAYMENT
Online Registration – We accept check/money order, purchase order and credit card via the online registration process.

Payment by Check – Make check payable to Connecticut After School Network, and send payment with registration form (if not registering online) to Connecticut After School Network, 12 Melrose Avenue, Branford, CT 06405
DELAY, CANCELLATION & REFUND POLICY
Due to inclement weather (snow, ice, flooding, etc.) or other emergencies, events may be delayed or canceled.  Participants are responsible to check the CT After School Network website or Facebook Page for delay or cancellation notices.

Refunds will be granted to registrants who cancel their registration by email at mberrios@ctafterschoolnetwork.org no later than

Refunds will not be provided to registrants who neither cancel nor attend the event.  Confirmed registrants who are unable to attend the event may send a substitute in their place at no additional cost.  Substitution information must be received by the CT After School Network no less than two business days before start of the event.
QUESTIONS
For any conference registration questions, contact Marla Berrios, Business Manager, via phone at (203) 483-1846 or via email at mberrios@ctafterschoolnetwork.org.

For any general conference questions, contact Monica Whalen, Conference Coordinator, via email at mwhalen@ctafterschoolnetwork.org.
TERMS OF REGISTRATION
Submission of your conference registration authorizes the CT After School Network to publish in any format and use for promotional and educational purposes your name and any photos, videos, and audio recordings taken of you at the conference.  It also authorizes the Ct After School Network to contact you by mail, phone or email.  Please note the following Media Release.  
Consent to Photograph, Film or Videotape Participants for Non-Profit use (e.g. educational, public service, or health awareness purposes)
As a conference participant, I acknowledge and grant permission to the Connecticut After School Network to use my image (photographs and/or video) for use in Connecticut After School Network publications including videos, email blasts, recruiting brochures, newsletters, and magazines and to use my image in electronic versions of the same publications or on the Connecticut After School Network website or other electronic forms of media.

I hereby waive any right to inspect or approve the finished photographs or electronic matter that may be used in conjunction with them now or in the future, whether that use is known to me or unknown, and I waive any right to royalties or other compensation arising from or related to the use of the image.