2023 Annual Afterschool Conference
972
972 people viewed this event.
This year we will focus on the amazing ability of after school professionals to think outside the box. From STEM programming to community partnerships, active games to social emotional learning, unique age-appropriate activities to amazing leadership opportunities; after school programs and their incredible staff are always thinking outside the box.
Join us as we look at ways to continue to create amazing out of school time learning opportunities and supportive spaces for children in creative and innovative ways.
Future Conferences | Save The Dates
Saturday, November 9, 2024
Saturday, November 8, 2025
---
CONFERENCE INFORMATION
SCHEDULE OF EVENTS (subject to change)
8:00 – 8:45 AM Registration & Breakfast
9:00 – 9:45 AM Welcome & Keynote
10:00 – 11:30 AM Session 1
11:30 – 12:15 PM Lunch
12:30 – 2:00 PM Session 2
2:15 – 3:45 PM Session 3
---
REGISTRATION FEE
Early Bird: $185.00 before Friday, September 29th
After September 29th: $200.00
Registration deadline – Monday, October 30th
---
KEYNOTE
Amplifying Youth Voice – Thinking Outside the Box to Support Youth Engagement
After school educators and out-of-school-time professionals are amazing, creative, and resourceful. "Thinking Outside the Box" is the perfect metaphor for the skills of successful after school providers. During this keynote session our presenter, Perrin Chick from the ACRES project, will share several other thought-provoking metaphors to help us to reflect on our work and how we connect with youth and colleagues. There will be opportunities in this presentation to laugh out loud as we think about what kitchen tool we want our educational style to reflect. There will be a few moments of deep reflection, as we think about ourselves as lifeguards.
Connecticut's out-of-the-box thinkers, its after-school providers, are certain to leave this session with a few more tools in their toolbox; a few more metaphors on the tip of their tongue; a few more ways to amplify youth voice and engage youth; and a realization that after school educators like you are making a difference every day in the STEM careers youth pursue.
---
WORKSHOPS/PRESENTERS
Click here to view presenters' bios. Thank you to those who submitted an RFP for this year's conference. Submission deadline was August 18, 2023.
---
EXHIBITOR/SPONSORS
EXHIBITOR TABLES (electricity available upon request) All exhibitors will have one 10-foot table. Additional tables are available for a fee. Exhibitors will be showcased on our social media prior to the conference and in our conference program. Electricity is not available at all tables and there is an additional fee for electricity. Meals are not included in the exhibitor fee. You are welcome to bring your own breakfast and lunch or purchase our meals.
$65 – Non-Profit
$155 – For Profit
$65 each additional table
CONFERNECE SPONSOR LEVELS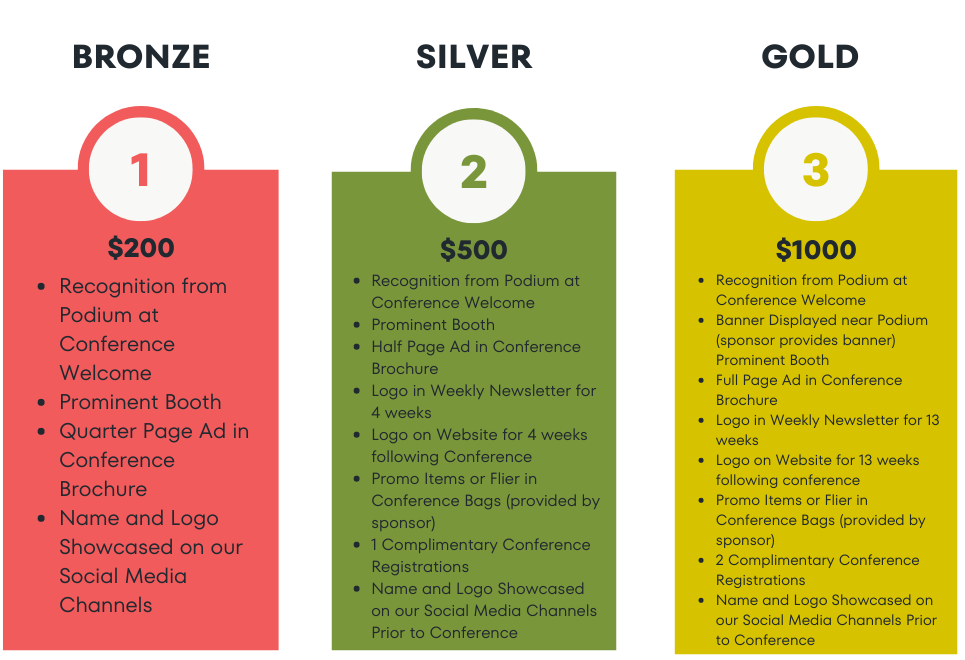 Click here for the 2023 Exhibitor/Sponsor Application (Coming Soon). Submission deadline is October 27, 2023.
---
PAYMENTS
Payment or Purchase Order must be received by Friday, October 27th in order to receive Early Bird discount.
Registration deadline is Monday, October 30th.
We accept check/money order, and credit card via the online registration process.
Payment by Check – Make check payable to Connecticut Network for Children and Youth and send payment to Connecticut Network for Children and Youth, PO Box 1409, Hartford, CT 06143.
DELAY, CANCELLATION & REFUND POLICY
Due to inclement weather (snow, ice, flooding, etc.) or other emergencies, events may be delayed or canceled. Participants are responsible to check the CT After School Network website or Facebook Page for delay or cancellation notices.
Refunds will be granted to registrants who cancel their registration by email at mberrios@ctncy.org no later than Friday, October 27th.
Refunds will not be provided to registrants who neither cancel nor attend the event. Confirmed registrants who are unable to attend the event may send a substitute in their place at no additional cost. Substitution information must be received by the Connecticut Network for Children and Youth no less than two business days before start of the event.
QUESTIONS
For any general conference questions, contact Monica Whalen, Conference Coordinator, via email at mwhalen@ctncy.org.
For any conference registration questions, contact Marla Berrios, Business Manager, via phone at (203) 483-1846 or via email at mberrios@ctncy.org.
TERMS OF REGISTRATION
Submission of your conference registration authorizes the Connecticut Network for Children and Youth to publish in any format and use for promotional and educational purposes your name and any photos, videos, and audio recordings taken of you at the conference. It also authorizes the Connecticut Network for Children and Youth to contact you by mail, phone or email. Please note the following Media Release.
Consent to Photograph, Film or Videotape Participants for Non-Profit use (e.g. educational, public service, or health awareness purposes)
As a conference participant, I acknowledge and grant permission to the Connecticut Network for Children and Youth to use my image (photographs and/or video) for use in Connecticut Network for Children and Youth publications including videos, email blasts, recruiting brochures, newsletters, and magazines and to use my image in electronic versions of the same publications or on the Connecticut Network for Children and Youth website or other electronic forms of media.

I hereby waive any right to inspect or approve the finished photographs or electronic matter that may be used in conjunction with them now or in the future, whether that use is known to me or unknown, and I waive any right to royalties or other compensation arising from or related to the use of the image.