Today, more than 8,000 program sites across the country will celebrate the 17th annual Lights On Afterschool! We hope you'll join folks in Connecticut and around the country to mark the occasion—it's easy to take part, no matter where you call home.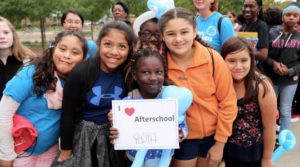 Here's how you can join in:
Sign the petition to show your support for afterschool, and to help keep the Lights On Afterschool in 2016 and beyond.
Chip in to keep the Lights On: donate $5, $10 or $25. For just $10, you can help ensure 4 children in need have access to a high quality afterschool program.
Encourage support for afterschool and participation in #LightsOnAfterschool on social media. Here's an easy sample post to copy and paste:
Thank you for all that you do to support America's afterschool programs. Happy Lights On Afterschool!