With an estimated 10 million students currently enrolled in out-of-school-time (OST) programs, providing high quality experience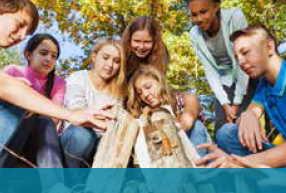 s is essential for the well-being of participants. According to the Grantmakers for Education's Funders' Guide to Quality in OST, participation in these programs allow students to engage in areas of study that are limited during the school day. That includes: physical activity, leadership development, civic education, science and technology (STEM), and the performing arts. Overall, these experiences are proven to have an incredibly positive impact on the social and academic development of youth that extends beyond childhood.
The Funders' Guide to Quality in OST identifies key components for high quality programs as well as strategies for how funders can improve OST quality. We've listed a few notable factors below.
KEY COMPONENTS OF A HIGH QUALITY OST SYSTEM
Quality Standards – "A set of standards that clearly defines what quality looks like in an OST environment forms the foundation of a high-quality OST system."
Professional Development and Workforce Support – "Because one of the most important drivers of program quality is skilled staff, professional development and workforce support is critical to achieving quality improvement. That includes coaching, supervision and mentoring, in addition to training and formal education."
Partnerships with Schools and Other Organizations – "Building relationships with teachers and administrators, participating in joint professional development, becoming familiar with individual teachers' and schools' curricula and teaching approaches and engaging in joint family outreach."
Research and Evaluation – "On a national level, continued research is critical to refine current tools and frameworks underlying quality improvement efforts, and to build our understanding of how young people learn."