The Connecticut After School Network would like to recognize NAA's Next Generation of Afterschool Leaders 2021 honoree Mackenzie Steadman! This annual honor is given by the National AfterSchool Association to recognize emerging leaders who are making a significant impact in the afterschool field.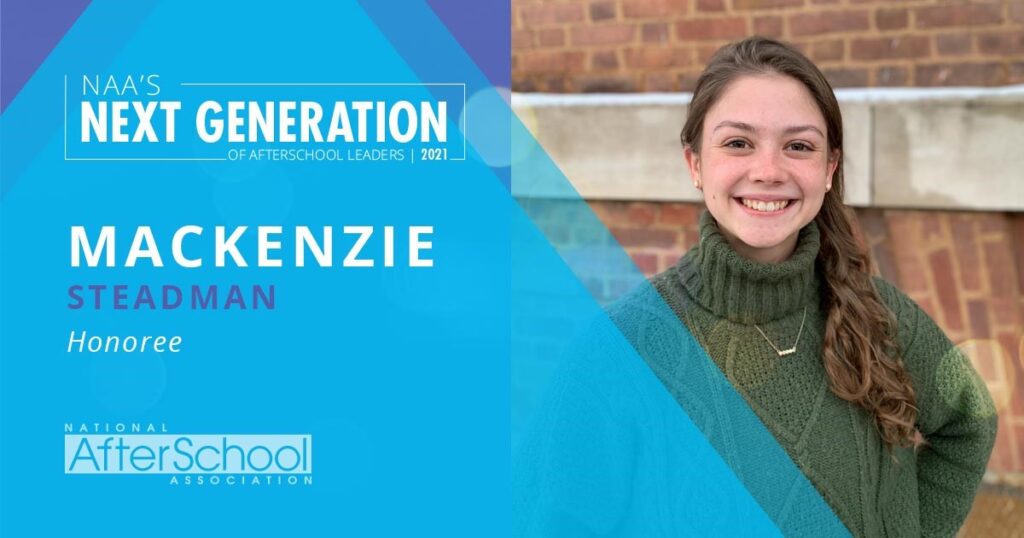 Mackenzie is the School Age and Youth Program coordinator for the Middlesex YMCA in Connecticut. She was chosen for this honor because of her dedication and passion for the afterschool field.
When asked what her initial reaction was to being chosen, Mackenzie said that she was shocked. "Afterschool wasn't originally something I originally thought I would see myself doing and it's now just become such a huge passion of mine." She also says that realizing her impact and people recognizing her impact is very humbling to her.
Originally a Technical Theatre major, Mackenzie studied lighting and sound. Her theatre career took a different path due to life events. "My mom got cancer and so I had to come home and actually take care of her and be her caretaker, so my theatre career was put on hold." When she returned home, Mackenzie discovered a job opening for Kid's Korner at the Middlesex YMCA. "If you would ask me would I have a career with kids, I probably would've said no when I graduated high school, but here we are now. I just fell in love with being able to see kids grow, help them with life skills and just be a positive role model for them."
Mackenzie says that her first day working at Kid's Korner was full of energy. Previously working for a theatre summer camp, Mackenzie used her theatre experience to help her navigate working with kindergarteners, first and second graders. "Taking what I knew from theatre, I just kind of replicated that energy and just made it fun for them, made it positive for them. I would jump around, I would act silly, I would do really silly voices and they loved it."
An experience that Mackenzie had within her first two weeks working at Kid's Korner is what made her want to stay in the afterschool field. "There was a student whose parents were going through a divorce. I remember sitting and talking to this girl, just kind of letting her talk to me. I went home and with my mom I had an entire discussion about this." Mackenzie's mother explained to her that divorces have a significant traumatic effect on children. "From there, it made me want to go back because I knew that there with me and the other Kid's Korner staff, that girl had a stable relationship with somebody."
Mackenzie thinks that having patience is an important leadership skill needed in the out-of-school time field. "My mom always had the saying called 'patience is a virtue' and she would constantly bring that in our ears and I understand now why she's saying that. It's something that you need." She also mentions the importance of understanding that each child is coming from a different time and place in their lives. The ability to mentor other staff is another leadership skill that Mackenzie thinks is needed in the field.
Mackenzie was then asked what piece of advice she would give to someone that is considering a leadership position in the field. "Go for it. Especially if you have a passion for working with the children. It's more rewarding with every step that you take and every step up that you take. It makes you a better person. You got to walk the walk and talk the talk." She emphasized the importance of being a positive role model for children.
In the next 5 years of the field, Mackenzie says that she would like to see more recognition and understanding for the work that is done in afterschool and summer programs. "A lot of people think that afterschool is just playing with kids and playing kickball. We're not. We're here for the nitty and gritty of it. We're here for the best parts of it. We're here for all of it. Afterschool is a staple in kids' lives."
Not only does Mackenzie love working with children, but she is also a dog lover! "I have a dog, her name is Ruth Bader Ginsburg. I think that showing kindness to an animal can help kids kind of show kindness to each other. Who doesn't love playing with cute puppies? They're stress relievers!"
We would like to congratulate Mackenzie for this incredible honor and thank her for the continued passion and dedication that she brings to the afterschool field.