I love sharing my love for astronomy each month.  I wish there were times I can do it weekly, but we are located in a pretty tough area where light pollution or weather for that matter may not always be on our side.
This month I want to share my night during camping up north by Canaan. The Moon was just coming out of its New Moon phase, so this time of the month was great for viewing.  I do not have a fancy camera for astrophotography, but my iPhone camera's new night mode was perfect for the dark sky.  Check out my Milky Way photos below.  Again, not great but not too bad either.  It was great to be able to see it with the naked eye, but even better when I was able to catch it with my camera.  Hope you like them 🙂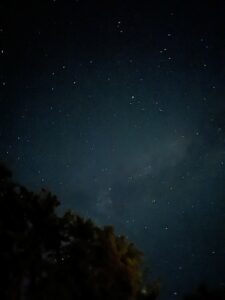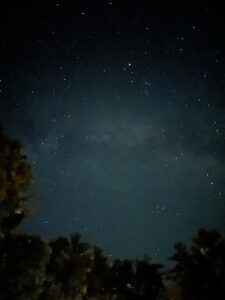 So, what is happening this month?  Just earlier this week new images of our star system were released by NASA's James Webb Space Telescope. It is an infrared observatory orbiting the Sun about 1 million miles from Earth to find the first galaxies that formed in the early universe and to see stars forming planetary systems.  It was launched on Dec 25, 2021, and it will complement and extend the discoveries of the Hubble, another space telescope launched in 1990.  This new scope's technology pretty much makes the Hubble look like an iPhone camera compared to a Nikon or Fuji professional camera.  See the images here.
Do not miss out on today's Full Moon.  July's Full Moon is known as the Buck Moon, Thunder Moon, Hay Moon, and Wort Moon. Tonight's Moon is very near Earth in its orbit causing us to view the 2nd Supermoon of 2022.
Remember you can contact your local astronomical society about holding a telescope viewing session for your school, youth group or other organization. We have some great organizations in CT that do star cruises.  These are guided tours of the night sky.  The best nights in July to hold a night are July 4 – 6 2022.
---
References:
Timeaddate.com
Space.com
NightSkyOnline.Info
solarsystem.nasa.gov