For kids, few moments in life are more glorious than the end of the school year and the start of summer vacation. Hooray! Three whole months of sweet freedom!
But when school's out, kids from low-income families have a real problem on their hands.
While their more affluent peers may be visiting libraries, attending summer camp and reading their favorite stories on family road trips, kids in need often spend the summer months without access to books and learning opportunities. In fact, many of them won't open a book until school starts up again.
Over the years, those summers add up. By the end of 5th grade, kids from low-income families are nearly three grades behind their peers in reading skills.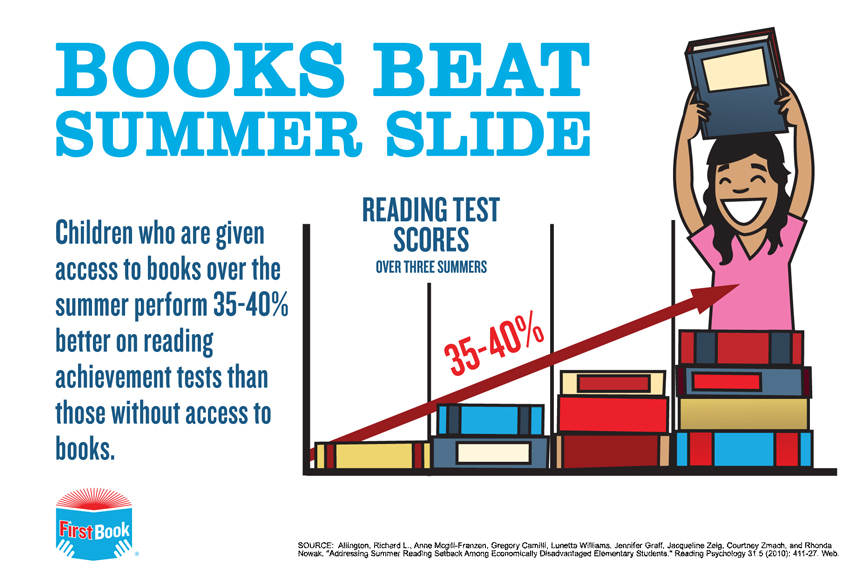 Books are the answer. Studies show that kids' reading skills improve when they have access to books over the summer – and this is especially true for kids in need. In fact, children who are given access to books over the course of three summers perform 35-40% better on reading achievement tests than those without.
First Book supports summer reading by providing new books and educational resources to educators and program leaders serving kids in need. Any afterschool service provider working in the lives of children from low-income families can sign up with First Book. It's free to join, and once signed up, you'll have ongoing access to thousands of free and affordable, high-quality books for the kids you serve.
Together we can keep kids reading over the summer and throughout the year.