Coaching & Learning for After School Professionals (CLASP)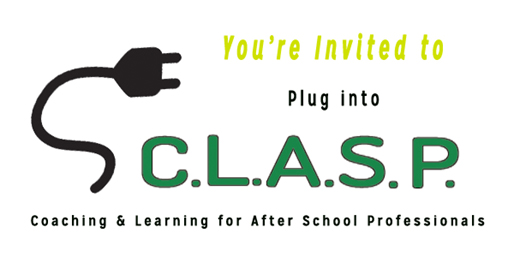 A Rich, In-depth, Professional Development Opportunity
---
What it's all about:
The Connecticut After School Network is launching two year-long intensive learning cohorts focused on increasing student engagement through intentional programming that helps support student success. We will be offering 12 slots in two locations (6 in each) for 2015-16 sessions designed for those overseeing sites or programs. Content will be focused on program design elements that meet program goals and embed academic content into afterschool pedagogy.
Each cohort will meet four times (full day sessions) throughout the course of the year (November, January, March, and May). Dates for the 2015-16 academic year are listed in our flyer below. Participants will also receive additional materials and resources throughout the year. The emphasis of the CLASP program is to provide resources and support through coaching and learning that help to change practice.
---
To view our flyer, click here.
Click here then select the CLASP tab at the top for more information and how to register.