Interview with Edward Franklin at the Boost Conference
I peered out into a large crowd of people sitting at tables eating lunch. I walk around for a few minutes trying to find a place to sit. Randomly, I pulled out a chair at a table with a few people chatting and eating. Hungry and eager to listen to the keynote speaker, I looked around to see when lunch was arriving. Shortly after sitting down, the gentleman to my right greeted me with a friendly hello and immediately we sparked up a conversation. We talked about work, where each other lived, and our families. I told him I am a blogger for Boost Breakfast club as well as the Connecticut After School Network. He chuckled and jokingly said, " you should write a blog about me". I replied that my blogs are mostly about Social Emotional Learning and followed up by asking "Are you guys doing Social Emotional Learning at your program"? He replied yes.
Once he said yes, I said "let's do the interview tomorrow! "
When I was looking up questions to ask during the interview, I suddenly realized I had never did an interview before, but for some reason, I knew this would be a great way to learn and share the remarkable impact Social Emotional Learning has on student success.
As I talked with Edward Franklin, President and CEO of Voice of Hope Ministries, he revealed the effects of SEL and how it bridges the gap between personal- emotional development and real-world implementation. Below please find the transcription from our meaningful interview.
Tiana – Can you tell me about Voice of Hope Youth Ministries?
Edward – It's a Christian faith-based afterschool program located in Dallas Texas, we focus on character building, life skills, and educational support.
Tiana- I am very interested in learning about what social-emotional means to you?
Edward- As you already know, SEL is not a relatively new concept, but it grew in its significance in helping children learn how to self-regulate their emotions. As a faith-based program, we were always aware of the social-emotional component in a child's life. For example, we know it's important for children to understand their emotions and control their anger. Feelings are natural and real but let's be honest; most of us don't know how to manage our emotions.
In the past, we would tell kids to pray or walk around the church to help them release their anger. But now, we have tapped into educational resources that are assisting in supporting with emotional management at our programs.
Tiana- What are some of the resources your programs use for SEL?
Edward -In Dallas, we have the Momentous Institute; they are like the gurus of social, emotional learning. We use their curriculum "Huddle UP". One of their favorite strategies when it comes to helping kids understand emotions is the idea of the glitter ball. When we shake it up it becomes cloudy and hard to see through, but if we take a minute to let the glitter settle, we can clear our minds and be calm and make the right decisions. In addition to using these resources our primary source are bible scriptures and breathing techniques.
Tiana- Do you feel like SEL works?
Edward – Back in the day we never were taught the skills to manage our emotions. I see it working for my students but especially with my 14-year-old daughter. When she gets angry, she does breathing exercises. She says "Dad, did you see that social and emotional working" ? I replied, yes I did.
For me, this interaction is the spirit of the Boost Conference. I took away so much from the overall conference but most importantly was able to network with other professionals and engage in meaningful interactions. Attendees enjoy uniting and learning with fellow afterschool professionals, expanded learning, and out-of-school time professionals. For even the shyest conference-goer, you can expect to enjoy kicking back and engaging in some stimulating discussions about life, family, and our work.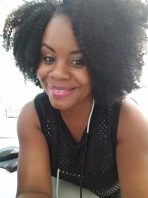 Tiana Brown is the Assistant Director of the Norwalk Housing Authority Learning Centers