Three Great Movies that Teach Empathy for Middle School Students
The right movie can provoke thought, stir our emotions, and spark our curiosity. When a child connects to a film, it can evoke the feeling of empathy better than any lesson ever could. In this blog post, I will provide you with three great movies that teach empathy.
Pay It Forward
This movie begins with a social studies teacher who gives a task to his junior high school. The students' assignment is to think of an idea to change the world for the better. Then the young students must think of how to put it into action. The main character creates a plan for "paying it forward." The idea of paying it forward is the idea of doing favors for others. This notion of helping people not only affects the life of his struggling single mother, but he sets in motion an unparalleled wave of human kindness. This heartfelt movie focuses on a young boy who tries to make the world a better place. This movie teaches children how understanding generates empathy, compassion, and service.
Discussion Questions- Pay It Forward
Ÿ● Pick a character and analyze the inner conflict that the character is experiencing by using the parts of the movie to support your reasoning.
Ÿ ● Do you believe this kind of project would work? Why or why not?
Willy Wonka & the Chocolate Factory
Charlie lives in a tiny house with his parents and all four of his grandparents. He is a poor but virtuous boy. Charlie Bucket, the hero of the movie, defies all odds in claiming the fifth and final ticket, to visit Willy Wonka and the Chocolate Factory. This adventurous story is a classic distinction between those who have money and those who do not. Charlie and the Chocolate Factory is a tale about trust, honesty, gratitude, and moral identity.
Discussion Questions- Willy Wonka
● Write five words that describe Charlie Bucket.
● How can you see Charlie's gratitude throughout the movie?
Inside Out
The movie Inside Out centers on the main character, Riley, who is a happy 11-year-old girl. Her world turns topsy-turvy when she and her parents move to San Francisco. Riley's emotions try to lead her through this stressful, life-changing experience. The essential messages about needing to feel-and express-all your feelings, whether happy or sad, told from the perspective of an 11-year-old is one which children can deeply benefit from.
Discussion Questions- Inside Out
● Riley is dealing with so many emotions. Why is it hard for her to tell her parents how she is feeling?
● What does it mean to have "mixed emotions" about something?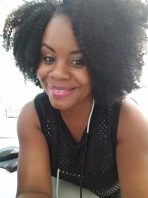 Tiana Brown is the Assistant Director of the Norwalk Housing Authority Learning Centers