Did the picture fool you? We all know that's what we are thinking but below is a lot closer to what REAL scientists look like.
Myria Perez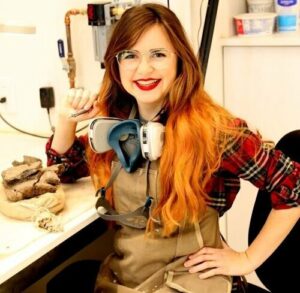 Fossil Preparator
Myria Perez is a fossil preparator. She cleans and repairs fossils to make them suitable for study and display.
Myria started volunteering in the paleontology department at the Houston Museum of Natural Science (HMNS) at the age of twelve. There, she learned how to prepare fossils, communicate science to visitors, and excavate fossils in the field with her curator mentors David Temple and Robert Bakker. To read more about Myria Perez click here.
Video: Myria Perez STEM Journey
Video: Digging Up Fossils Science Experiment with Paleontologist Myria Perez
---
Ana Maria Porras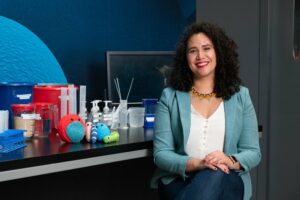 Biomedical Engineer
Ana Maria Porras became a biomedical engineer because she wanted to develop tools and applications that solve problems related to human health. Both her parents were teachers in engineering so it kind of ran in the family. She studies the differences between the microbes present in the guts of people living in developing versus developed nations with the goal to also understand the impact that these differences have on human health.
Video: How Many Microbes are in Our Bodies? Biomedical Engineer Ana Maria Porras Shares"
---
Dana Bolles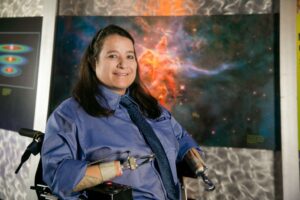 Mechanical Engineer
Born without arms or legs, Dana Bolles dreamt of a career as an astronaut, picturing herself drifting through the weightlessness of space without the aid of her electric wheelchair. Today, Bolles, a mechanical engineer, can't help but smile when asked about the diversity of jobs she's held during her 25-year career at NASA – a place she fondly calls "my space agency." You can read more about her life by clicking here.
To access a nice bio, worksheets, interesting creatures with this colorful 8 page document click here.
Video: Are There Aliens Really Out There?! Space Professional, Dana Bolles Thinks So!
---
Roselin Rosario-Meléndez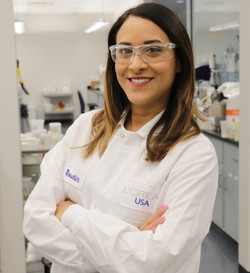 Cosmetic Chemist
Hi! My name is Roselin and I am a Cosmetic Chemist with great passion for mentoring!
I grew up in Puerto Rico where I had little exposure to STEM but I remember always loving science and math. In school my teachers told me that I should try to become a medical doctor. Being a chemist and/or getting an advanced degree in STEM was something I never heard. One problem – I DON'T LIKE BLOOD!!! I truly enjoyed chemistry, though, and decided to pursue a chemistry major in college with the hopes of becoming a dentist. To read more about Roselin Rosario Melendez's life click here.
Video: Interview by Mya (maybe 11 years old) Interview with Roselin Rosario-Meléndez
Posters:This Is What A Scientist Looks Like poster featuring Myria Perez who worked with paleontologist Louis Jacobs to unearth never-before-seen fossils from Angola.
Activity Sheet: Camp GoldieBlox Activity Sheet: Crochet Cocci Friendship Bracelet
Activity Sheet: Camp GoldieBlox Activity Sheet: DIY Dino Dig
Lesson: What Does a Scientist Look Like