Health benefits of drinking of water
Recently I started the Keto diet. One of the core components of the Keto diet is reducing the consumption of sugar. No more cans of Ginger Ale, now I'm drinking water strictly. Over the last few weeks, I noticed a few changes; physically I feel lighter, and emotionally I am less cranky. I thought, there must be a connection between drinking water and mental health. I did a little research and learned that drinking water may alleviate depression and help with sleep disorders and several health conditions.
In this blog, I will share the SEL health benefits of drinking water.
The studies suggest younger children should drink milk and water as their main beverages.
Filling their cups with water rather than juice; it's better for their teeth. If you do give them fruit juice, dilute it with water.
● Older kids should get a water bottle so they can carry it with them.
● Women should drink six pints of water per day.
● Men should drink eight pints of water per day.
Mild dehydration can cause your moods to change; slight dehydration can make you experience more tension or irritation. Studies have discovered that when you reduce your fluids by hot conditions, exercising or drinking too much caffeine, you can get dehydrated and that affects your mood and health. Drinking enough water is one of the best things you and your kids can do to keep your bodies physically and mentally healthy!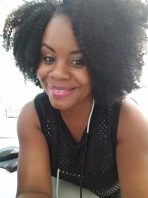 Tiana Brown is the Assistant Director of the Norwalk Housing Authority Learning Centers