Getting Ready for your Back to School Night Event
Back -to- School Family Night is a great way to enhance family involvement for your afterschool program. The event supports parent involvement as well as shapes children's understandings of positive community interactions and it also promotes family bonding. A Back-to-School Family Night should be colorful, fun, engaging, and interactive. Staff can openly discuss their policies, programs, and expectations to set the tone for a successful school year.
In this blog post, I will share with you a quick and easy checklist for planning an awesome back to school night.
1. Mark your calendars
Select a day and time that best fits your families' schedules. Most programs have their Family Nights in the fall sometime in September or early in October. It is important to hold the back to school night when students are still acclimating to the new year. Be sure to plan far enough out so Families can mark this night off on their calendar, and also so that you and your staff have a sufficient amount of time to plan out all of the details.
2. Supplies and Budget
From my experiences, Family Night events can become costly. Make a list of supplies. Pre-plan by ordering on Amazon, Walmart, etc. Be resourceful and take inventory of the things you already have in your closet and see if you can incorporate it into your theme.
3. Send out invitations
Three weeks before the event, staff should email out messages, send out flyers, and post brochures and information on social media to the families. Additionally, announcements about the event should be made daily during any announcement periods across the school, and within the classroom. On-going posts regarding the event should also be posted on any social media sites to remind parents of the event.
4. Incentivize
Food is also a great incentive. For our Back-to-School Family Night we always provide the student's with ice cream Sundays. You could also possibly do a raffle!
5. Choose Activities
Think of the activities that will connect to your purpose of the event. We usually create stations; stations are small activities placed throughout the space that groups can travel to. We also designate parent and child specific portions of the evening by separating we the students from the parents at our Back-to- School night to discuss \ goals with the parents.
6. All Hand on Deck- Setting expectations
As the event nears, staff should meet three to four weeks before the event to plan. Together you should discuss their ideas for the event. Staff will be assigned roles and responsibilities for the night. Also, I the importance of being flexible and reliable during this meeting as the success of the event is dependent on a sum of all our efforts.
Good News: Practice Makes Perfect! Over time, I realized that investing time into the planning and preparation process has produced the best results. I have experienced some flops, but it helped me improve on the ideas that didn't work. A word to the wise be sure to save a copy of both your budget and planning list electronically. This gives you a foundation to build off of for future events so you won't have to re-create the wheel!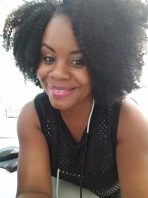 Tiana Brown is the Assistant Director of the Norwalk Housing Authority Learning Centers